Mineralizing Himalayan Salt Stone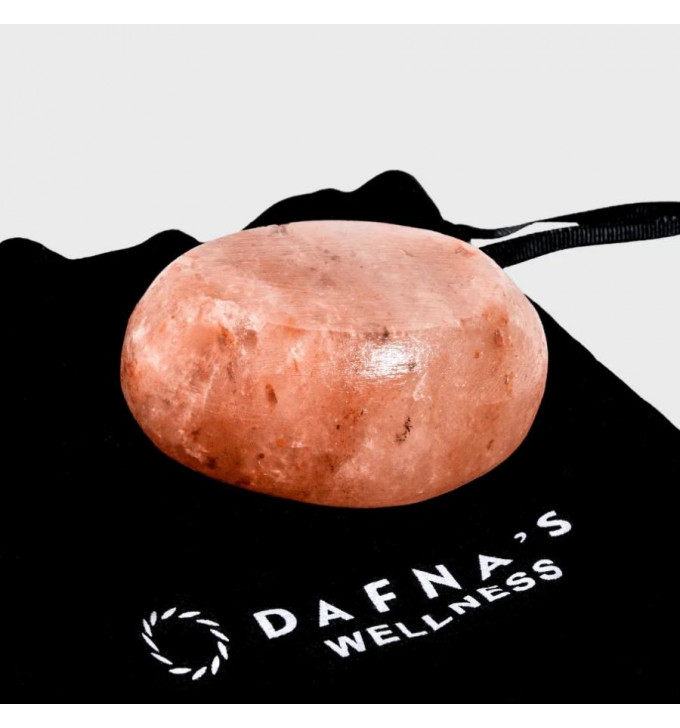  
DAFNA'S Skin Care
Mineralizing Himalayan Salt Stone
It's new trend yet so old, a holistic healing healing modality for the whole body. The salt stone massage gently exfoliates the skin and is extremely (but extremely) relaxing for the body and mind. So it could not be missing from Dafna's rituals collection.
Salt Stone from the Himalayas contains a wide variety of minerals such as: sodium chloride, calcium, potassium, magnesium, sulfur oxide, manganese, fluorine, iodine, zinc, chromium, copper, cobalt, iron (from which it gets its pink color) and gold. If there was one element to stand out, it would be magnesium.
Magnesium is essential for our health and helps to restore the skin's natural vitality and softness. This mineral is available in various foods, but is often not well absorbed, so through the salt stone massage, we will offer the revitalizing, balancing and moisturizing properties of this mineral to the skin.
How to use it.
Apply your body oil and massage with the exfoliating stone. It restores the balance of minerals and activates the circulation of the lymphatic system in depth. Focus on the most problematic areas (thighs, buttocks, back). It will help reduce inflammation and "orange peel" looking skin.
Avoid massaging on damaged or injured skin and/or other areas where the skin is more sensitive (avoid chest, décolleté, face and sensitive area).
Should I use the stone cold or hot?
And in both ways.
In the summer the cold touch is nicer while in the winter the warm is probably more welcome. To heat the stone you can put it under hot water, dry it on a towel. A few minutes in the fridge will be enough to cool it down.
Can I use it on dry skin?
Yes, but then we recommend using a body oil. It helps absorb minerals and the feel is much smoother.
The Ritual
Roll the stone slowly over your skin.
Massage in circular motions and feel how you treat tired skin and cellulite in depth.
Feel how the tension leaves the skin and the body in general, leaving a new space for new physical experiences.
100% pure stone from the Himalayan mountain. Hand selected and carved.
What to do is the stone has spines? When the stone is starting to wear away, the surface becomes rough /with spines. We recommend to polish it and make it to keep it smooth again. The way to do it is to rub the stone while it is moist in a a towel.
In the same Category
The best Ayurvedic tongue cleaner in the universe