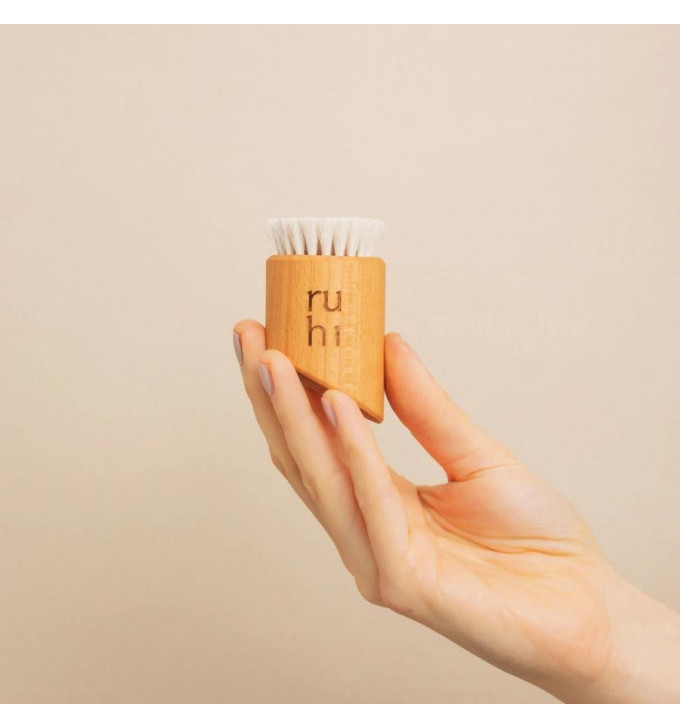  
RUHI
The Facial Dry Brush
This beautiful-looking wooden brush with 100% natural bristles from Ruhi, is the perfect tool for your daily facial brushing ritual. A few minutes of face massage daily with the Dry Face Brush are enough to boost the radiance and promote the health of your skin.
What makes it good for your face? 
Dry brushing is an ancient method of Ayurvedic healing for more energy, health and vibrant skin. Face brushing works in the same way as body dry brushing. Regular facial dry brushing stimulates blood circulation and lymph flow, effectively removes dead skin cells so that the skin underneath can breathe again,
Important: Stimulates the production of new skin cells and leaves your skin fresh and radiant (bye-bye, grey veil!), refines your complexion and reduces small lines and wrinkles and reduces swelling. 
How Does the Dry Facial Brush work? 
The Ruhi Facial Dry Brush exfoliates gently and effectively. Its bristle thickness is medium-soft and therefore ideal for sensitive facial skin. Due to its special shape, it lies perfectly in your hand and effortlessly reaches all contours of your face.
How to Use it.
Preparation: Start with clean and dry skin. Apply gentle pressure and repeat the following steps 3 to 5 times on each side of your face.
Eyes: Brush around your eyes and over your eyebrows in circular move­ments while applying light pressure.
Cheeks and jawline: Start at your chin and brush towards your hairline. Move up to your mouth and nose and stroke out towards your ears.
Forehead: Place the brush in the middle of your forehead and brush horizontally out towards your temples. Work with short upward strokes between your brows. 
Neck: Start at the base of your neck and brush up towards your chin.
Done! Apply your favourite skin care product and enjoy you silky-smooth and glowing skin.
This face brush is made of 100% natural bristles and oiled, regional beech wood from responsibly managed forests, and does not have any plastic inserts. It is sustainably and traditionally crafted in Germany. Increases your skin's absorption of skin care products, and finally leaves your skin radiant and glowing.
Bristle thickness: medium-soft.
The brush is accompanied by instructions and a blueprint
Regional, oiled FSC- certified beech wood. 100% natural bristles (ethically sourced horse mane hair; the horses only have their manes trimmed)
For dry use only. The brush may lose individual hairs during the first few uses. This is completely normal and will stop by itself after a short time.

Πολύ καλό