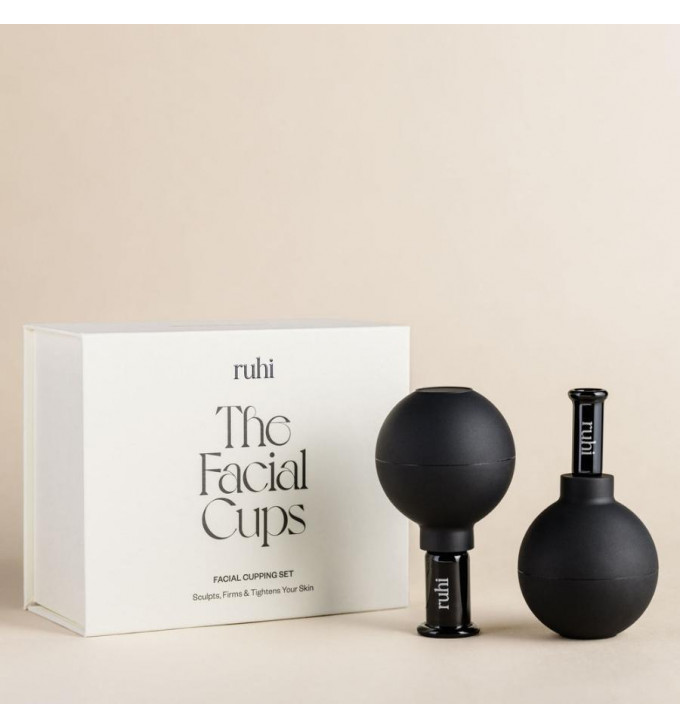  
RUHI
The Facial Cups
Facial cupping is your self-care ritual for tight, firm, and healthy skin that leaves you refreshed and glowing. The ancient Chinese beauty technique is known for its ability to increase blood circulation, promote lymph flow, and create a natural lifting-effect. 
This ritual promotes new oxygen-rich blood into circulation to your skin layers and it is really a key to looking beautiful and feeling healthy. Introducing cupping our facial treatments is totally benefit.
The facial cupping massage is very easy and only takes a few minutes: put a few drops of facial oil onto your cleansed face, squeeze the cup together, suction the cup to the face and always stroke gently from the inside out or from the bottom up.
Why is good for you?
The regular massage with the facial cups stimulates your blood circulation and your lymph flow,
Ρemoves toxins,
Ιncreases the elasticity of your skin,
Provides a natural lifting effect,
Ρelieves facial tension,
Ρeduces puffiness,
Ηelps your skin to better absorb skin care products,
Promotes your natural glow.
The Ruhi cups are made by hand from high quality glass and medical grade rubber. The rubber is free from harmful substances such as phthalates and BPA and meets the strict requirements of the European REACH regulation.
Each cup box comes with a canvas bag made of 100% cotton for practical storage. The face cups are packed in a beautiful, plastic-free and 100% recyclable gift box.
Preparation:
Thoroughly clean your face. Then apply a facial oil of your choice.  (This step is very important as the cup cannot slide well on your skin without face oil).
Massage Tips
Squeeze the cup, let it suck on the skin and gently stroke from the inside to the outside or from the bottom to the top.
Eyes: Place the small cup under the eyes and slide towards the temples.
Cheeks and Chin: Using the large cup, start at the chin and sweep up toward the hairline. Go up to the mouth and nose and glide towards the ears.
Forehead: Using the large cup, place it in the middle of the forehead and sweep horizontally towards the temples.
Finished! Enjoy your healthy and glowing skin!
Cleaning and care: Clean the cups with a damp cloth and let them dry. Don't submerge them in water.
Avoid allowing the cup to sit still at any time. The most one should expect is a subtle wash of redness as blood begins to flow more freely through the connective tissue