Top  
DAFNA'S Skin Care
Moisture +
Revitalise Skin & Uplift Senses
Each moisturizer can meet different needs on the face. Some are "light", others more "solid" and strong. The choice is yours… We suggest you hydration plus plus.
Dafna's care guarantees a personal and exciting experience in whatever choice you make for your skin. Moisture+ is here to give you this extra in your hydration with biotechnology. It is an extremely advanced moisturizing cream, with 100% vegan, natural and organic ingredients of high quality, carefully selected, to offer you more than anything... A "super cream" moisturizing! 
Why should I use Moisture plus?
By the lack of hydration, our skin is more vulnerable to being affected by all these external agents. Moisture Plus is a moisturiser, which in addition to being an anti-aging cream, fights free radicals and brings to the skin that freshness and juiciness, which is usually lost over time. 
What our customers say about the essence of Moisture plus is that it has a creamy texture and a floral aroma that invades you with a great feeling of calmness, both inside and outside. And this is what makes this day cream different. 
Is it for me?
Of course, if you have normal, dry and mature skin and you are looking for a moisturiser that not only hydrates and calms the skin, but also works the signs of age and provides you with a lot of comfort and elasticity.
What effects will I notice?
In the short term you will notice how the skin feels deeply more hydrated, fresh, and with a silky skin feeling. In the long term, it helps to reduce the effects of free radicals, decreases sensitivity in the skin and reduces the appearance of fine lines and wrinkles.
What is inside?
Contains 19 active ingredients, such as low molecular weight hyaluronic acid, for hydration to the deeper levels of the skin that you feel immediately. Plantago, Bamboo and Mimosa tree extracts (our favourite) are the "superpowers" natural ingredients, all concentrated in the crystal jar that convinces you of them - deeply moisturize the skin, nourish and regenerate the skin.
Its rich texture and the silky feeling it leaves on you, stimulate the senses and "redeem" your skin. Use it fearlessly in your daily routine, it leaves no trace of oiliness and let it strong formula bring to light its results.
Apply the cream on the face, neck and décolleté, morning and evening. Apply the cream lightly up and on the outside of the face. Use only a small amount of product. Avoid the eye area.
Aqua**, Aloe Barbadensis Leaf Extract*, Vitis Vinifera Seed Oil**, Vegtable Glycerin*****, Olea Europaea Fruit Oil*, Glyceryl Stearate ***** , Cetyl Alcohol*****, Cetearyl Alcohol*****, Propanediol*, Sodium Hyaluronate*****, Potassium Palmitoyl Hydrolyzed Wheat Protein***** , Plantago Major Leaf Extract**, Bambusa Vulgaris Extract*, Argania Spinosa Kernel Oil*, Mimosa Tenuiflora Bark Extract**, Rosmarinus Officinalis Leaf Extract**, Calendula Officinalis Flower Extract**, Hedera Helix Leaf Extract**, Rosa Damascena Flower Water**, Ficus Carica Fruit**, Helianthus Annuus Seed Oil*, Caprylhydroxamic Acid*****, Cera Alba, Sorbitol***, Maltodextrin*****, Silica, Tocopherol**, Pelargonium Graveolens Flower Oil***, Lavandula Angustifolia Oil***, Rosmarinus Officinalis Leaf Oil*, Citrus Aurantium Amara Flower Oil*, Linalool****, Limonene****, Geraniol****, Citronellol****, Citral****, Eugenol****
Moisture plus is a safe product to use during pregnancy. However, we always recommend checking with your doctor before using new products (every pregnancy and every woman is different).

Αξίζει

Πολύ καλή .

Plus Plus

Αγαπημενη

Καλή!
12/20/2020
Marina Panagopoulou
In the same Category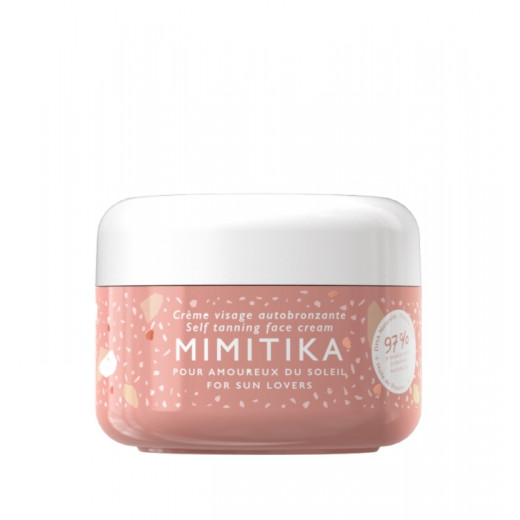 A healthy glow all year round: natural self-tanner,...