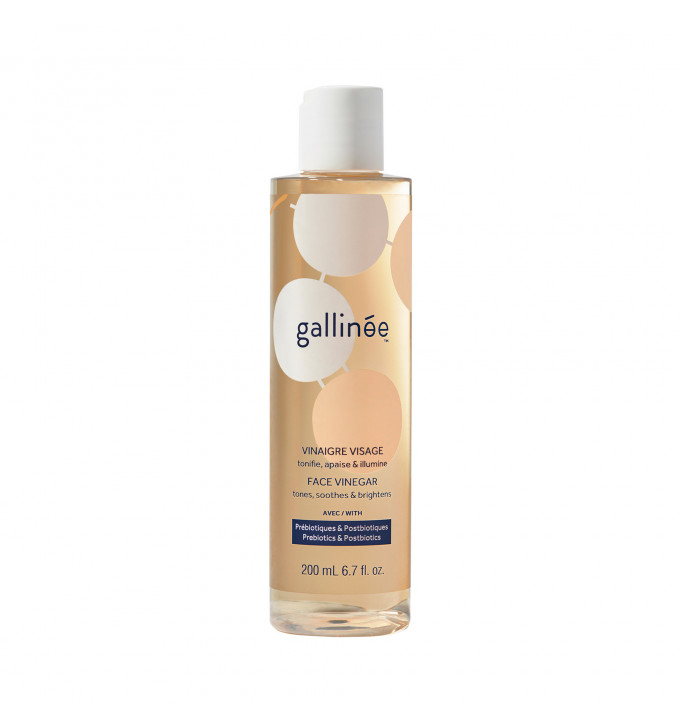  
GALLINEE
Face Vinegar
Vinegar for the face in a toner?
Yes! You heard right. Calm down, it does not smell and it is very effective
Gallinee guarantees its wonderful results.
It's a 3-in-1 toning made from super-ingredients that brings a wealth of health benefits for your skin:
Purifies: It's packed with astringent Acetic acid, that gently removes dirt and unhealthy bacteria, and tannins, that have been proven to regulate sebum production.
Protects: Antioxidants contained in the vinegar help neutralize free radicals - the molecules that degrade skin cells and cause premature ageing and blemishes. Oxidative stress is reduced and skin is protected from external ageing factors.
Regenerates: Thanks to the gentle exfoliating properties of the AHA (alpha hydroxy acid), it stimulates skin cell renewal for a smoother, refined appearance. It also helps minimize the appearance of blemish scarring.
Not an ordinary toner… but an adorable facial toner for an instant glow. Vinegar soothes your skin, reduces its pores and leaves it clean! 
We love it because:
Let's face it - it's a unique toner with vinegar and billions of happy bacteria inside!
Adjusts the skin pH to optimal.
Its absence in parabens, paraffins and other aggravating ingredients.
Very popular among the fans of the brand
Without oils and perfumes.
It is based on Galinee's philosophy to support the good bacteria in our skin.
Making the skin glow!
Combined beautifully with:
To be used morning and night. Wet your face with the toner, apply a cotton ball to your face or directly on your fingers dry clean skin, avoiding the eyes. Continue with Gallinée Youthful Serum or Moisturizing Face Cream.
As a toner before hydrating and after cleansing. Avoid the eyes area
AQUA (WATER)*PROPANEDIOL*GLYCERIN*1,2 HEXANEDIOLALPHA-GLUCAN OLIGOSACCHARIDE*PENTYLENE GLYCOLINULIN*LACTIC ACID*ACETUM (VINEGAR)MARIS AQUA (SEA WATER)ARGININE*HIBISCUS SABDARIFFA FLOWER EXTRACTLAMINARIA DIGITATA EXTRACTSACCHARIDE ISOMERATESODIUM HYDROXIDE*PHENETHYL ALCOHOL*SODIUM BENZOATEPOTASSIUM SORBATE

Best Toner Ever

Το toner μου!

Best toner

Eίναι απαραίτητο στην καθημερινότητά μου

Ένα καλό τονερ
In the same Category
Elixir toner with antiseptic properties containing...