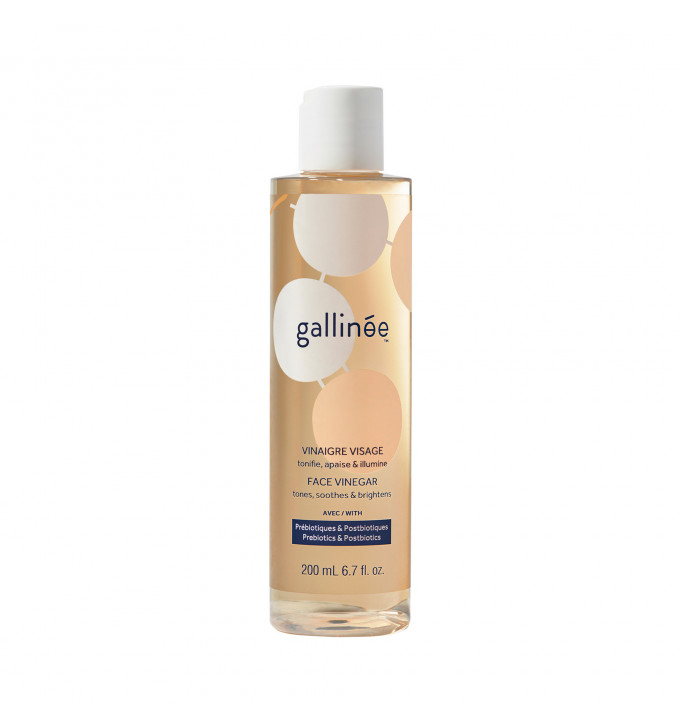  
GALLINEE
Face Vinegar
Vinegar for the face in a toner?
Yes! You heard right. Calm down, it does not smell and it is very effective
Gallinee guarantees its wonderful results.
Not an ordinary toner… but an adorable facial toner for an instant glow. Vinegar soothes your skin, reduces its pores and leaves it clean! The combination of Apple and Hibiscus vinegar is known for its astringent, exfoliating and soothing properties while Algae probiotic extracts, a brand new ingredient from green and brown seaweed, sea water and polysaccharides, work together against the signs of stress and soothe.
At MIMØΣΑ we love it:
Let's face it - it's a unique toner with vinegar!
Adjusts the skin pH to optimal.
Its absence in parabens, paraffins and other aggravating ingredients.
Very popular with fans of the brand
Without oils and perfume.
It is based on Galinee's philosophy to support the good bacteria in our skin.
Making the skin glow!
Combined beautifully with:
To be used morning and night. Wet your face with the toner, apply a cotton ball to your face or directly on your fingers on dry clean skin, avoiding the eyes. Continue with Gallinée Youthful Serum or Moisturizing Face Cream.
As a toner before hydrating and after cleansing. Avoid the eyes area
AQUA (WATER)*PROPANEDIOL*GLYCERIN*1,2 HEXANEDIOLALPHA-GLUCAN OLIGOSACCHARIDE*PENTYLENE GLYCOLINULIN*LACTIC ACID*ACETUM (VINEGAR)MARIS AQUA (SEA WATER)ARGININE*HIBISCUS SABDARIFFA FLOWER EXTRACTLAMINARIA DIGITATA EXTRACTSACCHARIDE ISOMERATESODIUM HYDROXIDE*PHENETHYL ALCOHOL*SODIUM BENZOATEPOTASSIUM SORBATE

Το toner μου!

Best toner

Eίναι απαραίτητο στην καθημερινότητά μου

Ένα καλό τονερ