Anti Blemish Vinegar Galée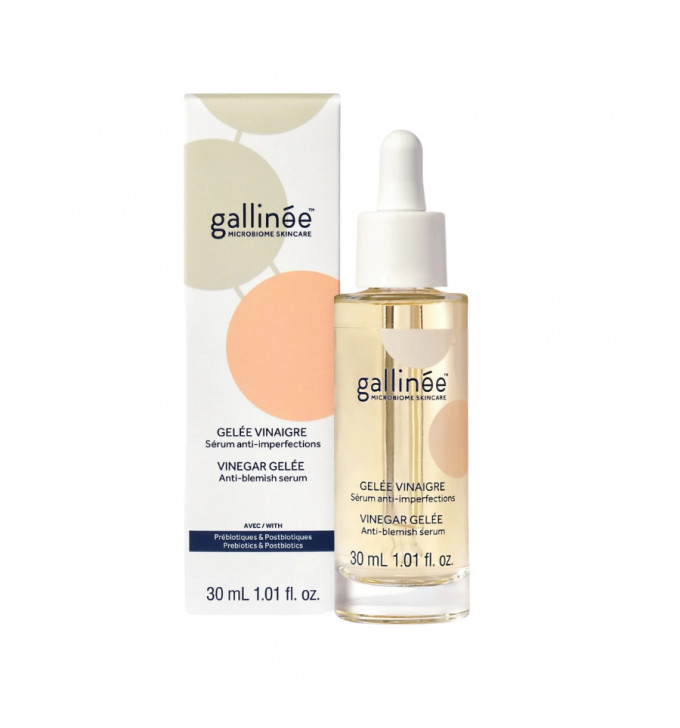  
GALLINEE
Anti Blemish Vinegar Galée
An innovative solution for acne-prone skin comes from Gallinée, the brand that takes care of the good bacteria in our skin. The 360-antibacterial action with probiotics against acne marks and targeted soothing action is the result of many years of research and comes to emphasize how important the care and protection of the skin's microbiome is.
For Dr. Marie Drago, pharmacist and founder of Gallinée, acne-prone skin needs support, not stripping. "I wanted a holistic solution that worked with the skin, not against it." Instead of drying out the skin to target pimples, this Vinegar Galée serum supports the microbiome, making it a less hospitable place for acne-causing bacteria while boosting the good bacteria.
Inside the Vinegar Gelée...
Dendriclear™ to reduce acne-causing bacteria on the skin
Hibiscus Apple Cider Vinegar to brighten skin and prevent pore clogging
Lactic acid to exfoliate, hydrate and maintain the skin's optimal pH level
Prebiotics to restore the skin barrier and reduce inflammation
It is an extremely concentrated serum, with gentle hyperactive ingredients, its fresh pot jellylike texture melts into the skin and leaves it comfortable and radiant. The skin is less oily, excess sebum is reduced, pimples are reduced, breakouts are reduced and marks are reduced in intensity.
99% ingredients of natural origin, without: soap, dyes, parabens, mineral oils, silicones, microbeads, Phenoxyethanol or methylisothiazolinone.
Use it day and/or night after cleansing. For best results apply over toner with Face Vinegar from the same range for a combined treatment. A few drops of the Vinegar Gelée on dry skin, targeting the areas that need it, or all over the face if needed, avoiding the eye area. Continue with facial moisturizer.
AQUA (WATER)GLYCERINPROPANEDIOLLACTIC ACIDINULINALPHA-GLUCAN OLIGOSACCHARIDEACETUM (VINEGAR)MARIS AQUA (SEA WATER)ARGININEFRUCTOSEGLUCOSEHIBISCUS SABDARIFFA FLOWER EXTRACTLAMINARIA DIGITATA EXTRACTCHLORELLA VULGARIS EXTRACTPOLYLYSINECELLULOSE GUMCAPRYLYL GLYCOLXANTHAN GUMCELLULOSEPHENETHYL ALCOHOLSACCHARIDE ISOMERATETETRASODIUM GLUTAMATE DIACETATESODIUM HYDROXIDESODIUM BENZOATEPOTASSIUM SORBATE
In the same Category
Anti-aging lifting effect serum with colloidal gold,...