Age-Defying Sunscreen SPF30 (Face, Neckline)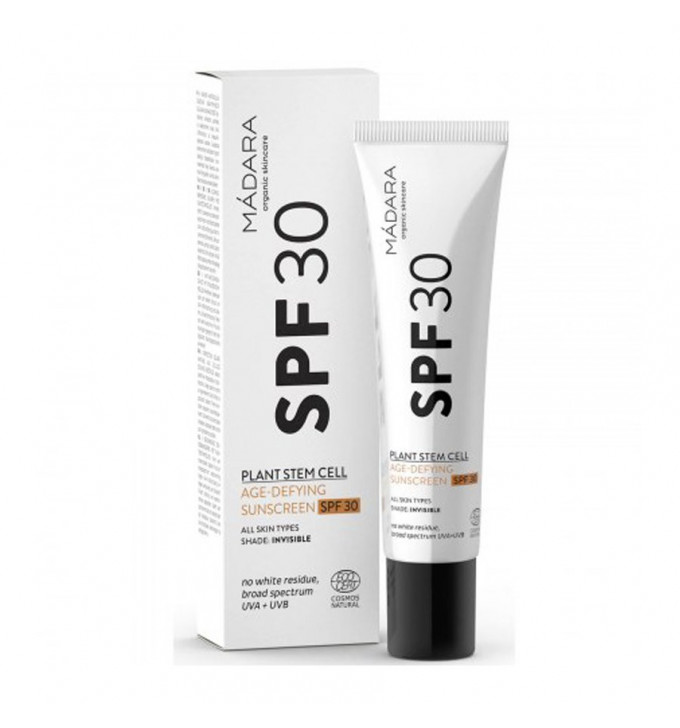  
MADARA
Age-Defying Sunscreen SPF30 (Face, Neckline)
Inorganic salts provide protection from sunlight, provide an overdose of antioxidants, protect against urban pollution, skin microbicide and rejuvenate the skin.
It works to prevent:
damage from the sun
dryness
wrinkles
coloring
dark spots
tumor loss.
Apply alone or even over daily moisturizing cream, it offers an invisible flawless finish.
Aloe Barbadensis (Aloe) Leaf JuiceZinc OxideIsoamyl LaurateDicaprylyl CarbonateGlycerinSorbitan OlivateBeeswaxLecithinPolyglyceryl-2 DipolyhydroxystearateSilicaCelluloseDracocephalum Ruyschiana (Dragonhead) Cell Culture ExtractCamellia Sinensis Leaf ExtractQuercus Robur (Oak) Bark ExtractVitis Vinifera (Grape) Seed OilHydrolyzed Hyaluronic AcidSodium HyaluronateSodium ChlorideAromaRubus Idaeus (Raspberry) Seed OilSorbitan CaprylateCI 77492 (Iron oxide)Palmitic acidStearic AcidPropanediolBenzoic AcidCI 77499 (Iron Oxide)CI 77491 (Iron oxide)AquaAscorbyl Palmitate (Vitamin C)Sodium phytateTocopherolPotassium HydroxideBenzyl SalicylateLimoneneCitralLinaloolEugenol

Best sunscreen ever

Ενυδάτωση

ευκολοφορετο!
In the same Category
Beautiful and protected from sun all year long!
Sun lotion formulated with natural and harmless sun...