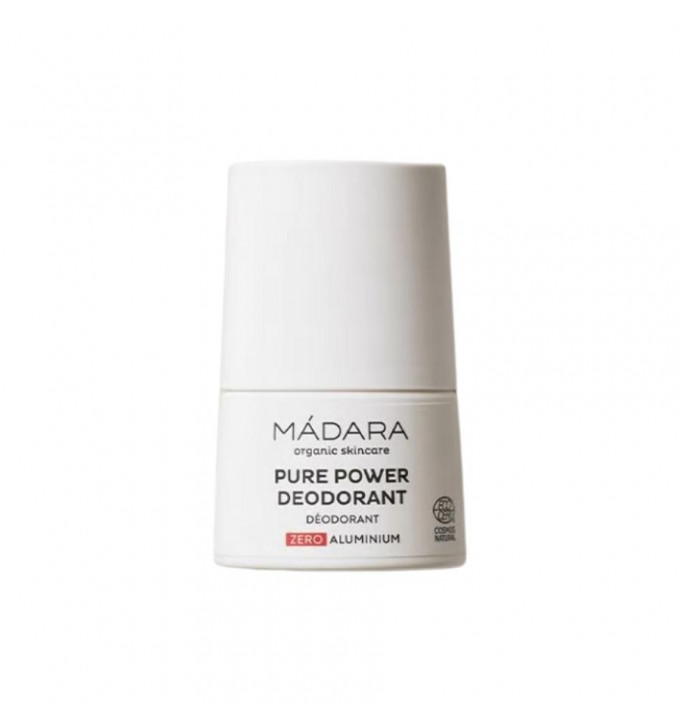  
MADARA
Pure Power Deodorant
The innovation of MÁDARA deodorant.
With 0% aluminium, this powerful plant extract-based natural deodorant ensures all day freshness and odour control.
Innovative smart-action molecules help to neutralize the unpleasant aroma-causing bacterial reactions without disturbing your body's natural functions.
Enriched with extracts of Calendula, camomile, mint and sage for antibacterial and soothing benefits.
Apply to clean, dry underarm skin. No need to wait as it absorbs quickly and leaves no stains.
Aqua, Alcohol, Triethyl Citrate, Glycerin, Butylene Glycol, Saccharomyces Ferment, Propylene Glycol, Zinc Ricinoleate, Xanthan Gum, Lactic Acid, Arginine, Aroma, Microcrystalline Cellulose, Calendula Officinalis (Calendula) Flower Extract, Chamomilla Recutita (Camomile) Flower Extract, Mentha Piperita (Peppermint) Leaf Extract, Salvia Officinalis (Salvia) Leaf Extract, Sodium Caproyl / Lauroyl Lactyl Lactate, Magnesium Hydroxide, Citric acid, Phenethyl Alcohol, Salvia officinalis (Sage) oil, Benzyl Salicylate, Citral, Linalool