Time Miracle cellular repair serum
 
MADARA
Time Miracle cellular repair serum
A clinically proven active anti-aging care concentrate.
It dramatically enhances the cycle of cellular renewal and significantly improves the smoothness of the skin. Cell repair bio-complex reduces the appearance of lines and wrinkles and the facial contour becomes more stable. The skin recharges with the necessary moisture and vitality, protects against free radicals by preventing and reversing both genetic and environmental aging.
Betula Alba (Birch) JuiceSimmondsia Chinensis (Jojoba) Seed OilGlycerinDicaprylyl CarbonateIsoamyl LaurateBetaineSodium PCAAquaHippophae Rhamnoides (Sea-buckthorn) Fruit ExtractTrifolium Pratense (Red Clover) Flower ExtractCetearyl GlucosideSodium levulinateAlchemilla Vulgaris (Lady's Mantle) ExtractGalium Verum (Lady's bedstraw) ExtractVaccinium Myrtillus (Blueberry) Fruit ExtractCelluloseDipalmitoyl hydroxyprolinePalmitic acidStearic AcidXanthan GumAromaSodium anisateLactic AcidTitanium Dioxide (CI 77891)XylitylglucosideAesculus Hippocastanum (Horse-chestnut) Seed ExtractAscorbyl Palmitate (Vitamin C)Equisetum Arvense (Horsetail) ExtractTocopherolSodium HyaluronateAnhydroxylitolCI 77288 (Chromium Oxide Green)Mica ( CI 77019 )Sodium phytateXylitolHydrolyzed Hyaluronic AcidAlteromonas Ferment ExtractPhenethyl AlcoholBenzyl SalicylateLimoneneCitralLinaloolGeraniol
In the same Category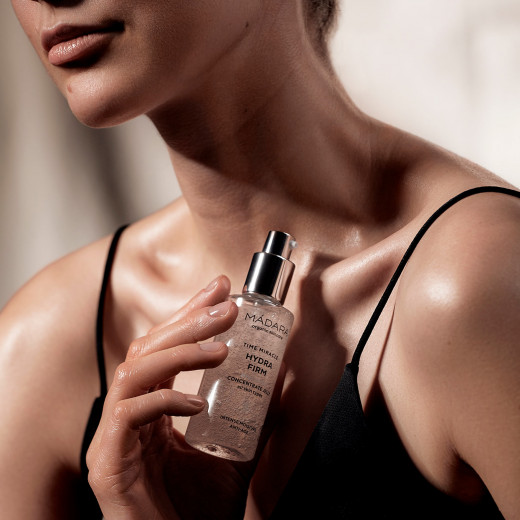 Oil-free hyaluronic acid gel, immediately cools the...
Anti-aging serum with orange and clove essential oil.