Radiant Collagyn for Beauty
 
ANCIENT and BRAVE
Radiant Collagyn for Beauty
A delicious, vibrant berry blend of raspberry, haskap and Beetroot containing natural phytonutrients which work in synergy with vitamin C to protect cells from oxidative stress generated by harmful free radicals. Radiant Collagyn is the perfect blend for an indulgent and urban lifestyles and to deeply nourish your skin from within. With key essential vegan nutrients including choline, iodine and vitamin D for optimal daily well being.
What makes Radian Collagyn different?
+ Helps the formation of collagen for the skin, cartilage and bones.
+ Protects cells from oxidative stress.
+ Strengthens cell division processes.
+ Promotes normal energy-yielding metabolism.
+ Strengthens the function of the immune system.
This innovative vegan Collagyn powder from Ancient + Brain is formulated with special amino acids, collagen building blocks, with plant proteins, botanical extracts and regulated vitamin C (280% NRV) and D3 (800% NRV) that support normal formation and collagen renewal.
The presence of specific amino acids, choline (85mg), chickpeas, brown rice, pea proteins, flavanols and white tea polyphenols turn it into a powerful daily nutritional support from the inside out.
Rich in prebiotic fibers, it supports the function of the digestive system and the gut microbiome and is an excellent source of protein to stimulate the muscle, skeletal and epidermal tissue even during periods of intermittent fasting.
The Μethod
Add 2 tablespoons (10g) to a small amount of warm water and stir until smooth, then top up with 150ml of warm plant-based milk, milk or water and enjoy.
250 grams (about 25 servings)
A simple solution for your future health
Raspberry Powder Chickpea Protein L-Glycine Beetroot Powder L-Hydroxyproline v L-Proline v Chicory Root Inulin MCT Oil Powder Wild-harvested Hebridean Seaweed Natural flavouring Vitamin C (Magnesium Ascorbate) L-Arginine v L-Alanine v L-Choline Bitartrate v Rosehip Berry Powder Pea Protein Brown Rice Protein Haskap Berry Powder White Tea Extract Vitamin D3 (cholecalciferol) / v denotes vegan fermented source
In the same Category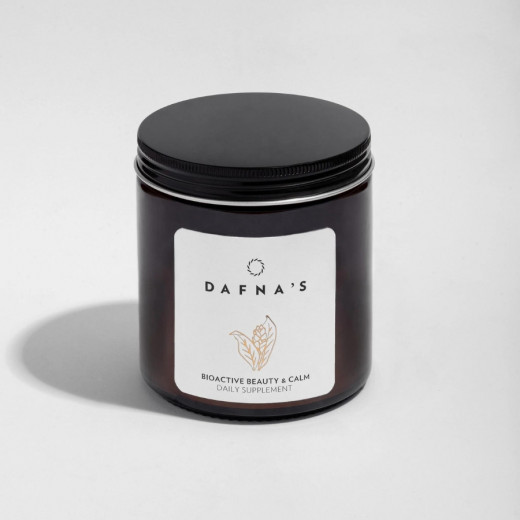 High- performing innovative daily supplement which...