Barrier Protection Cleanser
 
DAFNA'S Skin Care
Barrier Protection Cleanser
Barrier Protection Cleanser is a treatment that strengthens the protective barrier of the skin, specially designed for sensitive skin and eye zone.
This blend of oils, created with the expertise of Dafna;s skincare to give you a clean skin, free from impurities, soft, moisturized, calm and protected. Continuous use creates more resistant skin and helps to reduce sensitivity and redness. Thanks to its emollient properties, the cleanser effectively softens the skin and leaves the eye region and skin calm, flexible and protected. 
Ηelps to fight oxidation and external agents that reduce the resistance of the skin.
Does not include any type of allergens (has been tested for over 30), neither essential oils or preservatives.
Is it for me?
You are looking for a cleanser that is respectful with sensitive skin and deep cleanses the eye area without irritating. You have sensitive skin? If you are looking for a cleanser that doesn´t have any preservatives or essential oils, that do works this is an excellent choice for your daily routine.
What effects will I notice?
Deep cleansing that removes all residue WITHOUT irritating. Skin feels soft and hydrated skin. The eye / skin area is clean from all daily impurities and makeup. Helps to reduce sensitivity and construct the cutaneous barrier. Creates more resilient skin.
What is inside?
Ceramides type 3 provides a treatment more than just cleansing the skin, help repair the skin barrier, which allows to maintain good hydration and will act as a shield against external aggressors that cause sensitivity symptoms.
Abysoft is a multifunctional ingredient that combines the benefits of Abyssinia oil with the bioactive effects of phytosterols, constituting an agent of natural origin with a highly moisturizing action for the treatment of the skin. It acts directly on the epidermis creating a delicate film that provides comfort and protection to the skin.
Camomile with inflammatory properties, Rosehip and avocado oil that provides comfort and flexibility. 
Soft oil that turns into very light lotion with a few drops of water.  Very soft and hydrating. Skin is left cleansed, revitalized and smooth. Use it as a first step for your two-steps cleansing.  Your skin will definitely enjoy it 
Apply a few pumps to your hand, and warm it up with a gentle massage. Then massage it to the eye area for a deep cleansing that removes all residue WITHOUT irritating. Add water and emulsify, then massage to eliminate the dirt particules. Remove with our cotton disc for a deeper cleansing and a more sensorial experience.
POLYGLYCERYL-3-DIISOSTEARATE, PRUNUS AMYGDALUS DULCIS OIL, RICINUS COMMUNIS SEED OIL, GLYCINE SOJA (SOY) OIL, HELIANTHUS ANNUUS SEED OIL, CRAMBE ABYSSINICA SEED OIL PHYTOSTEROL ESTER*, CERAMIDE NP*, ROSA CANICA SEED EXTRACT*, PERSEA GRATISSIMA OIL, CALENDULA OFFICINALIS EXTRACT, MATRICARIA CHAMOMILLA EXTRACT, ROSMARINUS OFFICINALIS LEAF EXTRACT*. *ORGANIC INGREDIENTS

Τέλειο για τα μάτια

A dreamy cleanser
In the same Category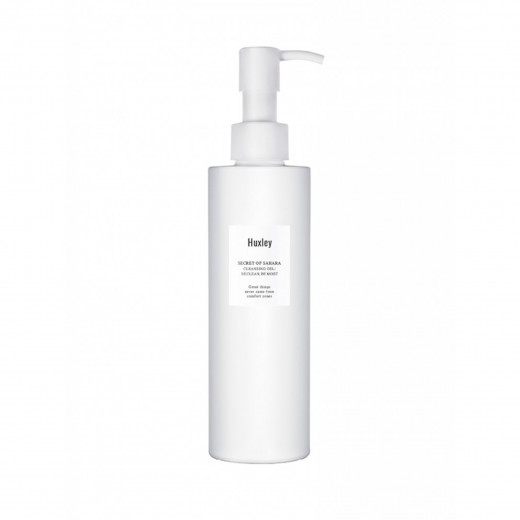 Gel texture cleaner with Prickly Pear extrac